Compare Commercial and Open-Source Phishing Tools.
Are you a Security or IT Professional looking to protect your business? Don't get stuck using a legacy approach to solve modern problems. Let's look at how commercial tools compare to open-source phishing tools and decide what best suits your needs.
Getting bogged down with open-source phishing tools?
You may need to consider the benefits and downsides of open-source phishing simulation tools to see if they best meet your business needs and objectives. In this comparison we'll analyse two tools, one open-source and the other commercial.
Time Efficiency
Cost Effectiveness
Support Availability
Features Analysis
Phishing Simulation Tools

CanIPhish

Proprietary

GoPhish

Open-Source
Perpetual Free Tier
SaaS Deployment
On-Premise Deployment
Open-Source Codebase

Limited

Managed Mail Servers
Managed Phishing Websites
Configurable Infrastructure
Features
Training Modules
Domain Scanning Tools
Campaign Scheduling

Limited

Email Template Editor
Phishing Email Library
Phishing Website Library
Sender Domain Spoofing
Executive Reporting

Limited

Support & Security
Azure AD & Google Workspace Integration
Office 365 & Google Workspace Report Phish Add-ons
Long-term Platform Support

Limited

Ticket, Chat, Email and Phone Support
Comprehensive Knowledge Base

Limited

Configurable Cloud Data Storage
Configurable Multi-Factor Authentication
*Comparison based on publicly accessible data.
Sign-up Free
Why CanIPhish
Do more with a modern solution
Fully self-service. From sign-up to delivery to user education.
Run phishing simulations under a perpetual free tier subscription. Or flexibly upgrade and downgrade plans at your own convenience.
Sign-up for free, with no trial periods.
No credit cards or sales calls are necessary.
No commitments necessary, only upsides.
Sign-up Free
---
Advanced real-time campaign tracking and reporting
See which users are vulnerable to phishing, view historic campaigns and track your phish click trend over the past 12 months.
Track campaigns in real-time
Schedule daily, weekly or monthly reports
Compare historic trends with active campaigns
---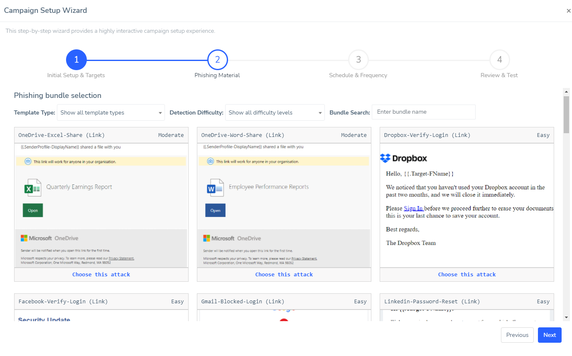 Phishing libraries that update with the latest trends
We help you to train your users to detect the most advanced threats by blending vulnerabilities, exploits and phishing material into live simulations.
Benefit from constantly updating phishing libraries.
Interactive onboarding and setup experience.
Phish employees in multiple languages.
View Library
---
Join our 4,000+ customers.
It's easy. Sign-up for free and send a phishing email test in under 5 minutes.
Understanding Open-Source
Leverage a community of developers to help train your employees.
What are the benefits of open-source?
They're free! Open-source phishing tools such as GoPhish are maintained by a community of developers.
A viable alternative. Opens-source developers maintain these projects with the goal of providing organisations with a free alternative.
Maintain complete control. View source-code, use your own infrastructure and host the tool in a way that suits your needs best.
It's a learning experience. Getting an open-source phishing simulator is often viewed as a good learning experience for penetration testers and red-teamers.
---
What are the downsides of open-source?
You may not get value for money. While open-source tools don't have a direct financial cost, they're time intensive to setup and require upfront investment to host the necessary infrastructure.
A significant commitment is needed. open-source phishing tools typically don't come with any phishing content. It's on you as the consumer to develop and maintain your own material.
There is no guaranteed support. The nature of using open-source is that you're leveraging a community of developers providing their time for free. In many cases, they'll fix bugs but there is no guarantee on new functionality or fix timelines.
---