Free Phishing Training For Employees
Phishing training is a crucial step for securing your workforce and meeting your compliance obligations. Don't wait till it's too late... train your employees in a fun and engaging way.
What is Phishing Awareness Training?
It's the security strategy many IT Professionals use to reduce the likelihood of human-driven security breaches. With 90% of security breaches being the result of human error, phishing awareness training is seen as the most cost effective approach to increasing the security posture of a business.
An effective training program addresses key avenues of attack and helps employees understand what activities may be considered high-risk. E.g. Clicking on links in emails, picking up a USB off the street or downloading documents from an unknown website. To conduct effective phishing training for employees, you'll need to:
Implementing Phishing Training for Employees
Implementing an effective phishing awareness training program is a key step towards strengthening the cyber security posture of your business. CanIPhish takes great pride in its ability to assist its customers with achieving this outcome. We do this by converging three pillars of functionality into a single product, the CanIPhish Cloud Platform.
The CanIPhish Cloud Platform is the world's first self-service phishing awareness training platform. Getting started is as easy as signing up and sending your first campaign. You don't need any credit cards, don't need to attend any sales calls or make any commitments.
Simulating Real-World Threats
CanIPhish simulate real-world threats by using the same tactics and techniques attackers use. We spoof sender addresses, use phishing emails and websites masquerading as legitimate services and personalise emails using a mixture of the recipients first name, last name, email address, job title and company name.
The simulated phishing experience CanIPhish provides is world-class and can be configured to train employees of all skill levels.
Think you can spot a phish? Take a look at the Email Phishing Library provided by CanIPhish.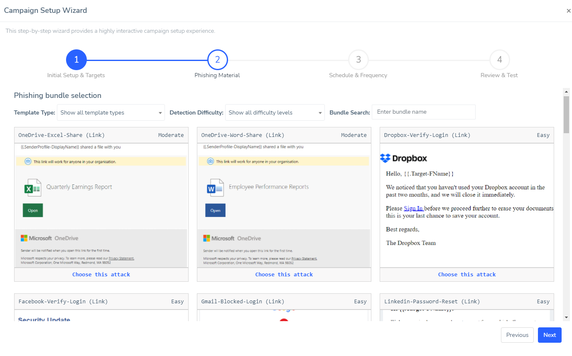 Real-Time Phishing Awareness Training
The best time to train an employee is in the 30-60 seconds after they fall for a phishing email. CanIPhish takes advantage of this by immediately presenting employee's with a variety of information sources that can be used to spot the phish in the future.
The information presented includes a video and datasheet which outlines what phishing emails and websites are, what can be done to spot phishing material in the future and what action the employee should take if they suspect an email to be phishing material. Want to use your own learning material? Configure CanIPhish to point to your learning page.
Curious what type of phishing attacks are out there? See the various types of phishing.
Continuous Improvement & Refinement
Free phishing awareness training is great for meeting compliance obligations, but to build a cyber resilient workforce it requires consistency and continuous improvement. It's for this reason, CanIPhish enable you to track phish click rates over a rolling 12 month period.
As phish click rates decrease you can also increase the difficulty of your simulated phishing campaigns. Begin by adding more personalisation, pick more targeted email templates and spoof sender profiles. Eventually you'll build a workforce so cyber resilient that they'll detect the most advanced threats.
Interested in seeing CanIPhish in action? It's free, Sign up and try it for yourself!
Free Phishing Awareness Training Tools
Sender Spoofing
Discover domains vulnerable to email domain spoofing and incorporate these into your simulated phishing training campaigns.
Hosted Training Website
When your employees fall for a simulated phishing campaign, they'll be directed to the CanIPhish learning page, or one that you configure.
Comprehensive Support
Get the most out of CanIPhish with our comprehensive knowledge base, live chat, phone and email support.
Directory Integrations
Upload employees via CSV or automate directory synchronisation with our Azure AD and Google Workspace integrations.
Flexible Infrastructure
Our highly dynamic platform enables you to use our hosted mail and web servers or to bring your own.
A full solution for everyone
Whether you're an enterprise looking to train users, a red teamer conducting a penetration test; or a hobbyist, we have you covered.