Free Phishing Tests & Training For Employees
The world's first self-service free phishing test & training platform. Identify your vulnerabilities and reduce your phish click risk with our market-leading software and customisable campaigns. You don't need any credit cards or sales calls to get started.
Try For Free
Watch Demo
Featuring in top technology news outlets
Employee Phishing Training Made Easy.
With 90% of data breaches a result of a user clicking on a phishing email, it's more important than ever to train your users to detect the most advanced threats. CanIPhish trains users by providing free phishing tests that blend social engineering with real-world phishing material and educating users what they can do to spot the phish in the future.
Why CanIPhish?
Free Phishing Simulator - Free to use, no trial periods, no credit cards, no sales calls.
Quick and Easy - Best-in-class intuitive modern interface, no training required, sign-up and send in minutes.
Scalable and Customisable – Take control of your phishing tests. Configure phishing emails, websites, sender profiles and seamlessly scale from 1 to 10,000 employees.
Realistic Phishing Templates – Build your own templates or choose from our regularly updated global and locally-themed phishing websites and email templates.
Advanced Real-Time Reporting - Track campaigns in real-time, schedule reports, track trends and much more...
---
How it works
Getting Started
With our modern software it's easy to send your first campaign. Save time by importing targets through our bulk import functionality and let our campaign setup wizard guide you through the process in just a few clicks. Choose between a campaigns that focus on credential or endpoint compromise, schedule your campaign to go immediately or at a specific time or day, and you're done!
Try For Free
---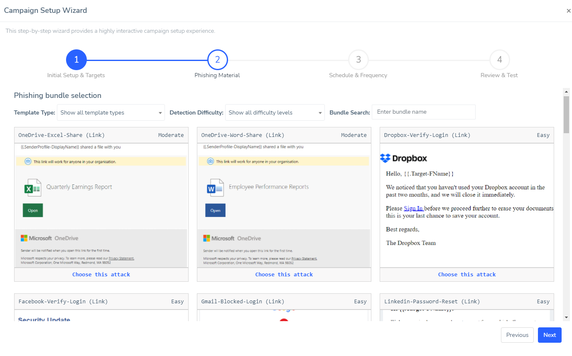 Protect your business
Track, Train, Report
Employees who fall for the phish, will automatically be provided with security awareness training to help them prevent future compromises. From our real-time dashboard you can track employee performance through to total employees compromised. Use this data to identify employees vulnerable to phishing, train them, generate executive reports and chart future behaviour. With our end-to-end solution, you can chart the reduction in your phish click rates with our historic reports option.
Try For Free
---
Free Phishing Test Tools All In One Place
Sender Spoofing
Discover domains vulnerable to spoofing and incorporate these into your simulated phishing campaigns.
Scalable and Customisable
Take control of your phishing campaigns with customisable phishing emails, websites, sender profiles and delivery frequencies.
Comprehensive Support
Ticket, chat, email, and phone support available. Additionally, get the most out of CanIPhish with our comprehensive knowledge base.
Phishing Library
Gain full access to the ever evolving library of phishing emails and websites that CanIPhish maintains.
Flexible Infrastructure
Our highly dynamic platform enables you to use either our hosted mail and web servers or your own.
A full solution for anyone
Whether you're an enterprise looking to train users, a red teamer conducting a penetration test; or a hobbyist, we have you covered.
It's easy. Sign-up and start sending.
Sign-up for free and send your first phishing email test in under 5 minutes.