Free Phishing Tests & Training For Employees
CanIPhish provides a truly unique simulated phishing and security awareness training experience. We use realistic phishing, storytelling and micro-learning to train your employees.
Try For Free
Schedule Demo
Featuring in top technology news outlets
Security Awareness Training Made Easy.
We've seen first-hand how legacy vendors make it difficult to setup simulated phishing and security awareness training. That's why the team at CanIPhish have focused on creating a platform that removes complexity and automates learning.
Why choose us?
A Self-Service Cloud Platform
Free Employee Training - CanIPhish provides it's training and phishing simulator free of charge under a perpetual free tier.
Integrated eLearning Platform – Run standalone security awareness training campaigns or auto-assign micro-learning to employees who fall for phishing emails.
Realistic Phishing Templates – Build your own templates or choose from our regularly updated global and locally-themed phishing websites and email templates.
Advanced Real-Time Reporting - Track campaigns in real-time, schedule reports, track trends and much more...
Multi-Language Content - Seamlessly translate phishing and training content to one of 75 supported languages.
---
How it works
Getting Started
Upload Your Employees

Upload the email address of employees you'd like to train with both manual and automated data imports available.

Send Phishing & Security Awareness Campaigns

Schedule your first simulated phishing and security awareness training campaign. See our public demo!
---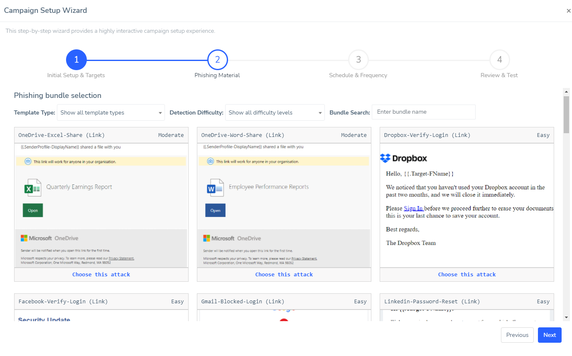 Protect your business
Phish, Train and Improve
Track employee compromises, reported phishing, training assignments and employee risk from a single unified console.
Employee Risk Scoring - Identify employees at a low, medium and high risk to phishing.
Report Phish Plugins - See which employees report suspected or simulated phishing.
Phishing Statistics – Track phishing email opens, links clicked, credentials compromised and attachments opened.
Training Statistics – Track employee trainings assigned, completed and overdue.
---
Free Phishing Test Tools All In One Place
Training Course Library
Leverage our library of micro-learning training courses to quickly and efficiently train your employees!
Scalable and Customisable
Take control of your phishing campaigns with customisable phishing emails, websites, sender profiles and delivery frequencies.
Comprehensive Support
Ticket, chat, email, and phone support available. Additionally, get the most out of CanIPhish with our comprehensive knowledge base.
Phishing Library
Gain full access to the ever evolving library of phishing emails and websites that CanIPhish maintains.
Flexible Infrastructure
Our highly dynamic platform enables you to use either our hosted mail and web servers or your own.
A full solution for anyone
Whether you're an enterprise looking to train users, a red teamer conducting a penetration test; or a hobbyist, we have you covered.
Get Started Today.
It's Easy!
Sign-up for free and send your first phishing email test in under 5 minutes.