Executive Phishing
Training your executives on how to spot highly targeted phishing emails is steadily becoming an essential task to ensure your organisation is protected against phishing-based threats.
What is Executive Phishing?
It's a type of phishing attack that targets senior management, often stealing sensitive information or money. This type of attack is also commonly referred to as CEO Fraud or Whaling. Attackers often utilise spoofed email senders and legitimate looking email content and websites to achieve their malicious goal.
The threat posed by this type of phishing is growing year-on-year. As organisations harden their IT environments, soft targets such as employees and high-level executives often become the easiest way into an organisation. The common objectives attackers have when performing executive phishing are below:
Preventing Executive Phishing Attacks
Preventing executive phishing attacks requires a defence-in-depth approach with a mixture of both detective, preventive and education-based tools. CanIPhish takes great pride in it's ability to provide it's customers with the necessary information and tools where ever possible to help secure it's customers environments.
Phishing Awareness Training
The best way to protect against executive phishing attacks is to train your executive team on how to spot the phish. Phishing awareness training exercises are uniquely designed to address this use-case. If your executives understand the techniques attackers use, they're less likely to become a victim when an attack occurs.
CanIPhish provide the world's most realistic simulated phishing experience. We do this by using the same tactics and techniques attackers use. We spoof email addresses, us phishing emails and websites that look like legitimate services and personalise phishing attacks based on whose receiving them.
Think you can spot a phish? Take a look at the Email Phishing Library provided by CanIPhish.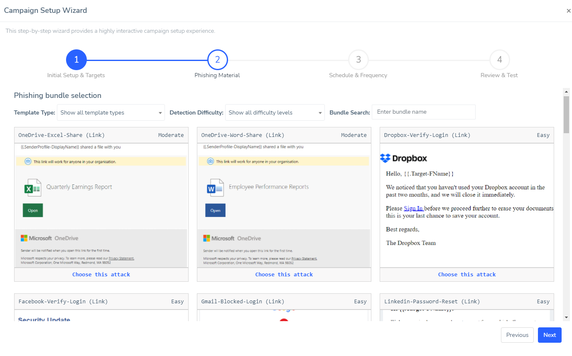 Secure Email Gateways
While CanIPhish don't offer a Secure Email Gateway (SEG), we are uniquely positioned to provide recommendations on the effectiveness and popularity of SEGs. Every time someone uses our free domain scanning tool, we collect statistics on what SEG technologies the scanned organisation is using. We aggregate these statistics up to then provide our wider customer-base with actionable insights into what the wider industry is using and potentially infer what technologies should be used.
The team at CanIPhish have written several blogs discussing the trade-offs between Phishing Simulation Platforms and Secure Email Gateways, additionally discussing what the Top 10 Secure Email Gateways are.
Curious what other blogs the team at CanIPhish have authored? Check them out!
Email Domain Hardening
If your organisations domain isn't hardened in-line with industry best practices, attackers may be able to masquerade as someone within your organisation and spoof your domain. Attackers will abuse issues within your SPF and DMARC records to perform these attacks.
By leveraging the CanIPhish domain scanning tool, you'll be able to spot issues related to your SPF and DMARC records, but also spot issues with your email receiver and sender infrastructure. Don't wait till it's too late. Run a free scan to gain peace of mind.
Think you may be vulnerable? Take a look at the free domain scan tool provided by CanIPhish.
Free Phishing Awareness Training Tools
Sender Spoofing
Discover domains vulnerable to email domain spoofing and incorporate these into your simulated phishing training campaigns.
Hosted Training Website
When your employees fall for a simulated phishing campaign, they'll be directed to the CanIPhish learning page, or one that you configure.
Comprehensive Support
Get the most out of CanIPhish with our comprehensive knowledge base, live chat, phone and email support.
Directory Integrations
Upload employees via CSV or automate directory synchronisation with our Azure AD and Google Workspace integrations.
Flexible Infrastructure
Our highly dynamic platform enables you to use our mail and web servers for hosting and distribution of phishing content, or to bring your own.
A full solution for everyone
Whether you're an enterprise looking to train users, a red teamer conducting a penetration test; or a hobbyist, we have you covered.