Free Phishing Simulations & Employee Training
CanIPhish provide the world's first fully self-service phishing simulation platform. Identify employees vulnerable to phishing and train them with CanIPhish. No commitments, no sales calls, no downside.
Free Phishing Simulations & Training.
You need a free phishing simulator that's fast, easy, effective and most importantly modern.
Time Efficient
Cost Effective
Realistic Phishing
Fully self-service. From sign-up, to delivery to user education.
Run free phishing simulations under a perpetual free tier subscription. Or flexibly upgrade and downgrade plans at your own convenience.
Free sign-up, no trial period
No credit cards, no sales calls
No commitments, only benefits
Sign-up Free
---
Advanced real-time campaign tracking and reporting
See which users are vulnerable to phishing, view historic campaigns and track your phish click trend over the past 12 months.
Track campaigns in real-time
Schedule daily, weekly or monthly reports
Compare historic trends with active campaigns
---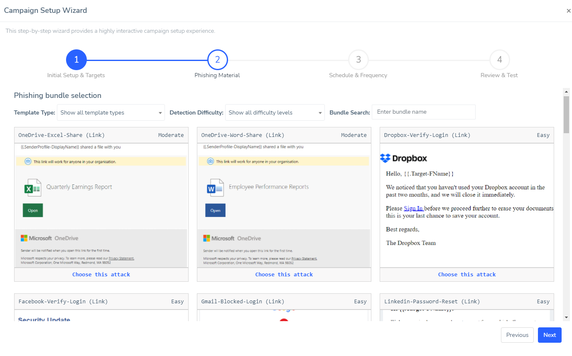 Phishing libraries that update with the latest trends
We help you to train your users to detect the most advanced threats by blending vulnerabilities, exploits and phishing material into live simulations.
Evolving phishing libraries
Interactive setup wizard
Multi-template support
View Library
---
Free Phishing Simulation Tools All In One Place
Sender Spoofing
Discover domains vulnerable to spoofing and incorporate these into your phishing simulations
Domain Tool Statistics
Track global domain tool statistics to help determine which domain's to spoof and identify the known good and bad.
Comprehensive Support
Ticket, Chat, Email and Phone Support or get the most out of CanIPhish with our comprehensive knowledge base and support documentation.
Third-Party Integrations
Sync your Azure AD or Google Workspace Directories and report suspected phishing emails through our Report Phish Add-on.
Flexible infrastructure
Our highly dynamic platform enables you to use our hosted mail and web servers for phishing... or you can also bring your own.
A full solution for anyone
Whether you're an enterprise looking to train users, a red teamer conducting a penetration test or a hobbyist - we have you covered
It's easy. Sign-up and start sending.
Sign-up and send a free phishing simulation in under 5 minutes. No Trial Period. No Credit Card. No Sales Calls.