Security Awareness Training for Schools
Schools have adapted and taken advantage of the new ways we communicate and collaborate in the modern digital world. As technology continues to advance, so do the methods and techniques used by cybercriminals. It is vital to recognise that security awareness training for schools is not simply ticking a box for compliance and audits, it's a proactive step taken to safeguard your institution against targeted attacks from cybercriminals.
Schools are often the target of cyber attack
Schools have become a prime target for cyber criminals especially now that we are often operating in a digital learning environment, we need to ensure teachers, students and faculty are taking a proactive approach to cyber security. In fact, recent research by the University of Caliornia, Berkley indicates that phishing is the most likely threat faced by teachers.
Security awareness training for schools is a journey that sets out to ultimately transform the way a collective group looks at cyber-security. It should begin by teaching and adopting the basics. This includes using strong authentication methods, educating users on what personal information should be safeguarded and practicing safe internet browsing. With just these three steps, not only will your school be better positioned to withstand cyber-attacks such as phishing and malware, but it will also be on its way to having a safer and more robust cyber-security awareness culture.
Implementing Security Awareness Training for Schools
Security awareness training is an effective method to reinforce your school's defences and educate your teachers and students on how to safeguard themselves and the school. Ideally, the training should be delivered in various forms including simulated phishing attacks that provide immediate feedback to users who fall for the attack and, security awareness training. Security awareness platforms such as CanIPhish provide a comprehensive package which includes simulated phishing attacks, security awareness resources and training programs.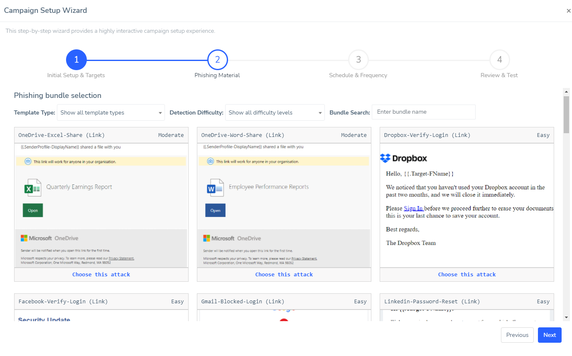 Step 1. Identify at-risk employees.
Simulate Phishing Attacks
Phishing attacks are one of the most common and effective ways cybercriminals infiltrate school networks. In a phishing attack, an attacker will send an email that appears to come from a reputable source, such as a friend, financial institution or commonly used service such as Netflix, Dropbox and Facebook to deceive the recipient into unknowingly handing over sensitive information.
Cyber criminals love phishing, because it's relatively low risk to them, difficult to trace, highly effective, commonly yields high rewards and there's no shortage of potential targets.
Think you can spot a phish? Take a look at the Email Phishing Library provided by CanIPhish.
---
Step 2. Provide real-time feedback
Understand Phishing Attacks
One of the best times to train employees on phishing awareness is immediately after they have fallen for a phishing attack. CanIPhish takes advantage of this by presenting users who have fallen for the phishing attack immediately with a variety of information sources that can be used to spot the phish in the future.
These resources include a video and datasheet which outlines what phishing emails and websites are, how to recognise phishing material in the future and what action the employee should take if they suspect an email to be phishing material. You can also add your own resources, making it a useful tool for schools with their own cybersecurity policies and training material.
Curious what statistics we capture? See our Knowledge Base.
---
Step 3. Assign micro-learning training modules
Security Awareness Training
Security awareness training for schools is a journey and simply sending simulated phishing emails to your staff members and students may not be enough to drive the culture shift required to create cyber resilience. It requires consistency and it's recommended staff and students undergo training regularly. This can be periodically or dynamically. An example of dynamic training is when a user falls for a phishing email, they are enrolled in training course.
The impacts of a successful attack can be devastating for a school and investing in your institutions defences is always worth it. Even if your journey starts in a rudimentary way such as creating strong password policy or ramps up to full-scale solution such as CanIPhish, there has never been a better time than now to start!
---
CanIPhish Cloud Platform - Security Awareness Training
High Quality Phishing Material
Our phishing material is extremely well crafted and can even trick experienced IT Security users who have a lapse in judgement.
Training Modules
When your employees fall for a simulated phishing campaign, they'll be directed to the CanIPhish learning page and optionally, be assigned training modules
Comprehensive Support
The team at CanIPhish is by your side with our comprehensive knowledge base, live chat, phone and email support.
Automated Campaigns
Setup scheduled campaigns and scheduled reporting. You can set scheduled campaigns to run weekly, monthly and quarterly.
Flexible Infrastructure
CanIPhish is highly dynamic, giving you the option to utilise our mail and web servers for hosting and distributing phishing content, or you can bring your own.
Easy to manage platform
Whether you're a School looking to train employees, a red teamer conducting a penetration test; or a hobbyist, we have you covered.