8 Best Practices To Supercharge Your Security Awareness Training Program
What You'll Learn In This Article.
The positive impact that a well-executed security awareness training program can have.
How to create a security awareness training program from the ground up.
The best practices you can follow to ensure your security awareness training program is suited for a modern working environment.
Understanding how to create a security awareness training program that not only ticks compliance boxes but also effectively trains your employees is something that many aspire for, but few achieve.
If you've worked for a multinational business, you've probably come across security awareness training programs that are rigid, tone-deaf, and not applicable to the modern remote or hybrid working environment.
In this blog, we'll discuss how a series of best practices can be used to spice up the security awareness training program of any business. But before we get into that, let's start with the basics and talk about what security awareness training programs are and why they're important.
Jump To Security Awareness Training Best Practices
What Is The Purpose Of Security Awareness Training?
The primary purpose of security awareness training programs is to ensure businesses can meet their security awareness training requirements. These requirements are commonly outlined by industry regulators or in cybersecurity compliance frameworks such as ISO27001, SOC 2, or PCI-DSS to try and address the growing threat posed by cybercriminals.
While security and compliance are key drivers, training programs should also be cost-effective and genuinely bring value to the employees it's meant to train.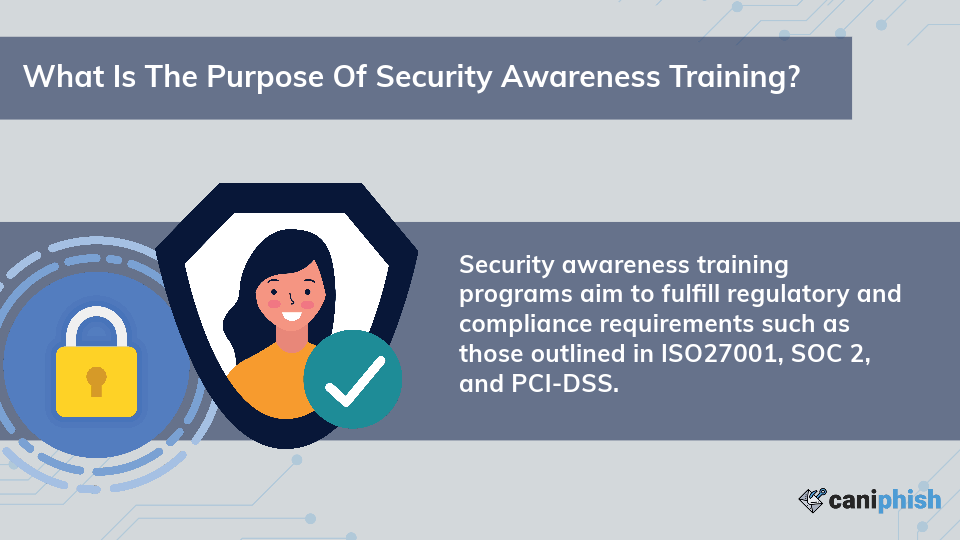 Why Is Security Awareness Training Important?
Cybersecurity is an evolving landscape where cybercriminals are continuously coming up with new tactics and techniques to trick victims and hack into computer networks.
While it would be fantastic, not everyone can become a cybersecurity expert, and it's the role of security awareness training to provide each employee with a baseline knowledge of what to look out for on the internet.
Without this baseline knowledge, businesses are fundamentally more vulnerable, and the end goal of security awareness training is to ultimately educate and empower employees so they can detect, prevent, and respond to real-world cyber security threats.
Security Awareness Training Program Best Practices
Now, let's get into what we're all here for and discuss the eight ways you can overcome common challenges and get the most out of your security awareness training program.
1. Ensure Training Is Interactive And Engaging
There's nothing worse than boring training.
This isn't just hyperbole. Boring training can impact knowledge comprehension and retention.
This is because it puts learners under more cognitive load to simply pay attention while simultaneously diminishing the perceived value that the training has for the learner. This is where the saying "in one ear and out the other" can genuinely hold its meaning.
Security awareness training should be interactive and engaging to counteract the effects of boredom.
This can be done through the use of animated videos, pop-up images, guided walkthroughs, clickable elements, drop-and-drop activities, and spot quizzes.
2. Use Self-Paced eLearning To Work Around Busy Schedules
If there's one constant in life, it's that there's never a shortage of work.
Trying to work around the calendars of dozens or even hundreds of employees is a full-time job on its own and not one that a lot of businesses can afford.
Self-paced eLearning completely negates this challenge by providing employees with a due date they can flexibly work around at their own pace, without the need to block out an entire day, irrespective of what tasks individual employees have going on.
This benefits both your employees but also negates many of the financial burdens that in-person mandatory training sessions can have on a business.
3. Communicate Why Security Awareness Training Is Important
Humans are inherently resistant to change. We love schedules, patterns, and familiar work practices.
While this is great for mundane tasks, it poses a challenge when active thought and action are needed. The purpose of security awareness training is usually to disrupt and improve upon some of the bad behaviors, patterns, and practices that may have been adopted by employees.
To get mental buy-in from employees, we need to emphasize the importance of security awareness training and the impact that bad practices can have, particularly if exploited by a cybercriminal.
4. Use Plain Language And Simple Explanations
Technical jargon and complexity are only good for one thing: hindering the learning process.
This can be a difficult task because cybersecurity is an intrinsically technical domain, but we need to ensure that training assignments avoid the use of unnecessary technical details and are fit for purpose for the intended audience.
The best way to overcome this is by briefly explaining an otherwise technical concept and then directly relating it to a common everyday experience. For example, using multi-factor authentication could be related to having both a locked fence and a locked door protecting your household items.
5. Tailor Training Content Based On Roles & Responsibilities
Different roles have different cybersecurity requirements.
This isn't just a statement, but in many cases, it's a regulatory or compliance-driven obligation.
For example, many SOC 2 auditors will insist upon software developers and IT administrators undergoing additional training to what is provided to standard employees. This is to overcome the additional risk that these roles pose to the business.
If a software developer writes a buggy web application with security vulnerabilities, it can be an easy way for a cybercriminal to steal customer information. Likewise, if an IT administrator falls for a phishing attack, it will likely result in significantly more damage than what would occur if an average employee fell for a phishing attack.
Using training assignments that are tailored to the roles and responsibilities of an employee can help keep training relevant, engaging, and technically fit for purpose.
6. Use Common Benchmarks To Assess And Gamify Training
When it comes to security awareness training, a common misconception is that the only metric that can be used to assess employees is the result of a quiz or test.
In actuality, you can use dozens of different metrics to assign or deduct points from an employee to gamify the learning experience and add an element of positive workplace competition.
Some examples of positive metrics include:
Passing a training assignment on the first attempt.
Completing a training assignment on the first day.
Completing all training assignments before their due date.
Failing a training assignment but then scoring 100% on the next attempt.
Some examples of negative metrics include:
Having an overdue incomplete training assignment.
Having multiple overdue incomplete training assignments.
Taking 3 or more attempts to pass a training assignment.
7. Supplement Formal Training With Phishing Simulations
While security awareness training is great for learning concepts and the fundamentals of an otherwise technical topic, it may not adequately prepare employees for practical threats, such as phishing attacks.
To help equip employees and provide them with the rote learning necessary to spot phishing attacks as they occur, we recommend supplementing security awareness training with regular phishing simulations.
If used, phishing simulations can also be used as part of the gamification process by providing employees with badges if they successfully dodge or report simulated phishing attacks.
8. Keep Training Content Up-To-Date With Current Threats
With the cybersecurity landscape constantly changing, it doesn't take long for training material to become outdated.
To counteract this, we recommend updating formal training modules annually. Supplementary content such as monthly newsletters, weekly blogs, or daily security tips can be updated more frequently and be used to discuss pertinent cybersecurity concerns.
Using this multi-pronged approach allows businesses to keep employees up-to-date with current threats without the need to constantly overhaul entire training programs.
Security Awareness Training Timeline
Just like all other aspects of life, timing is everything.
Who you assign training to and the difficulty of that training should depend on where an individual employee is at in their own security awareness training journey. Suppose you assign an employee a training beyond their current skill level. In that case, you could end up alienating the employee and detracting from their ability to understand the material presented to them.
To help mitigate issues such as this, we've put together a timeline showcasing the gradual learning process for a newly onboarded employee. In this timeline, a key metric used to determine the employee's current skill level is their Security IQ, which progressively transitions through Beginner, Intermediate, and Advanced levels, which determine the difficulty of the training they're assigned at that point in time.
Curious how we calculate a Security IQ Score? Take a look at our Security IQ Algorithm.
0 to 90 Days After Onboarding
Security IQ Level: Beginner (Monthly Training)
When an employee is first onboarded, they should be treated as a blank slate, regardless of any prior learning they've undertaken. A newly onboarded employee may have their own idea of what it means to be cyber secure, but this may not align with the risk posture or expectations of your own business.
In the first 90 days, an employee should be assigned 3 Beginner level training modules on general topics such as Phishing, Cyber Security, and Ransomware.
91 to 180 Days After Onboarding
Security IQ Level: Intermediate (Monthly Training)
At this point, the onboarded employee has been introduced to general topics that will give them a strong foundation to build upon. They should understand what cyber security is, what their role in securing the business is, and how to detect common cyber security threats.
Between 91 and 180 days after joining, an employee should be assigned 3 Intermediate level training modules on more complex and niche topics. If your business needs to meet certain regulations or compliance frameworks such as GDPR, ISO 27001, SOC 2, PCI-DSS, and so on, then it's helpful to begin introducing these now.
181 to 270 Days After Onboarding
Security IQ Level: Advanced (Monthly Training)
At this point, the onboarded employee should be well and truly familiar with what your business's expectations are of them and how they can help to meet not only the business's regulatory or compliance obligations but also how to operate securely in their role.
Between 181 to 270 days after joining, an employee should be assigned 3 Advanced level training modules that cover complex cyber security topics. What makes these topics difficult is that there isn't necessarily a right or wrong answer; instead, it relies on the employee maintaining a constant state of awareness. Advanced training can cover topics such as Situational Awareness, Defence-in-Depth, and Insider Threats.
271+ Days After Onboarding
Security IQ Level: Advanced (Monthly or Quarterly Training)
From here on, your employees are well and truly human firewalls. But just like how IT equipment needs periodic patching, humans need periodic refreshers.
If we were to stop all forms of security awareness training, the employee would progressively de-skill back through Intermediate and Beginner levels.
271+ days after joining, the onboarded employee should receive either monthly or quarterly security awareness training on topics they have yet to be introduced to (which could be at a Beginner or Intermediate level) or receive refresher training on topics they've already covered.
How To Get Started
The practices outlined in this blog can help you transform mundane security awareness training programs into dynamic and impactful learning experiences.
These practices prioritize engagement, knowledge retention, and overall employee satisfaction. Recognizing that security is a shared responsibility, the training approaches discussed here empower employees to become proactive defenders against cyber threats.
If you're in the early stages of putting together your training program or looking to overhaul how your training is delivered, simply create a free account and try out the CanIPhish Cloud Platform - a fully integrated phishing simulator and eLearning Management System, which has been purpose-built to address the practices outlined in this blog.
Written by
A Security Professional who loves all things related to Cloud and Email Security.